AGADI 50 SC
A broad Spectrum Insecticide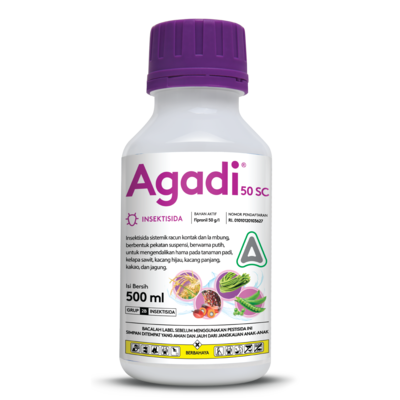 Mode of Action:
Agadi belongs to the phenylpyrazole group. It is a broad spectrum insecticide, toxic by contact and ingestion.
Agadi is also very effective for insects resistant or tolerant to pyrethroid, cyclodiene, organophosphorous and / or carbamate insecticide
Agadi can be used to control insects when applied as a soil or seed treatment.
Application Advice
Rice
Lead Folder - Cnaphalocrosis medinalis
Rice Stemborer – Scirpophaga incertulas
Rice Stingbugs –  Leptocorisa oratorius
Oil Palm
Termite – Coptotermes curvignathus
Mung Bean
Whitefly – Bemisia tabaci
Thrips – Thrips parvispinus
Long Bean
Aphids – Aphis craccivora
Whitefly – Bemisia tabaci
Thrips – Thrips parvispinus
Cocoa
Pod borer - Conopomorpha cramerella