Allout 865 SL
Systemic after-growth herbicide in the form of a solution in the air to control broadleaf weeds in the cultivation of rice and sugar cane.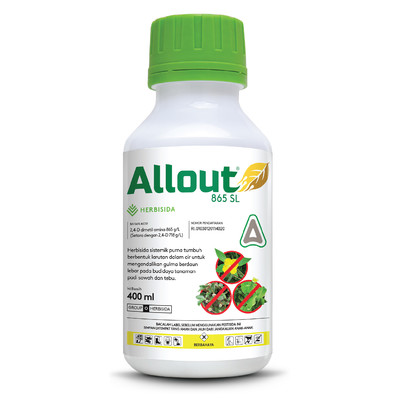 Allout comes with high technology and consistent quality so that it is more effective in controlling broadleaf weeds in rice and sugarcane plants.
Appropriate:
Selective herbicides control target weeds and do not damage crops.
Strong:
Systemic herbicide that kills all parts of the weed
Fast:
Rapid control effect on target weeds
Application Advice
Rice
Target:
- Ludwigia octovalvis
- Limnocharis flava
Dose/ Ha:
2,5 - 3 l/ ha
Sugarcane
Target:
- Ipomoea triloba
- Alternanthera sessilis
- Commelina difusa
Dose/ Ha:
2 - 3 l/ Ha