RICEQUICK 50 WP
Pre and post-emergence Systemic and Selective Herbicides to control broadleaf weeds, narrowleaf weeds, and puzzles in rice plants.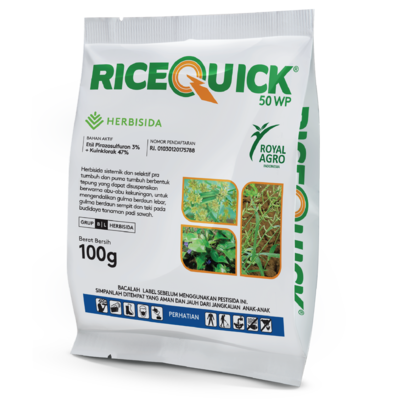 MODE OF ACTION 
ETHYL PYRAZOSULFURONE:
It is a herbicide from the Sulfonylureas family.
Works to inhibit the action of the enzymes Acetolactate synthase (ALS) and acetohydroxy synthase (AHAS).
Control broadleaf weeds and puzzles.
Pre and post-growth herbicides
QUINCHLORAC:
It is a Quinoline carboxylic acid herbicide
Works to inhibit cell wall biosynthesis and synthetic auxin.
Controls narrow leaf weeds, especially Echinochloa.
Pre and post-growing herbicides.
Application Advice
Rice
Target
Echinochloa colona
Leptochloa chinensis
Leersia hexandra
Cyperus difformis
Fimbristylis miliacea
Ludwigia octovalvis
Monochoria vaginalis
Marsilea crenata
Doses/ Ha
450 gr – 600 gr/Ha
5 – 6 packs (100gr) for 1 hectare
1 pack ± 2 tanks