CYPRONEX 440 EC
Insecticides of contact and stomach toxins that can be emulsified in water, yellowish-colored to control Spodoptera exigua on shallot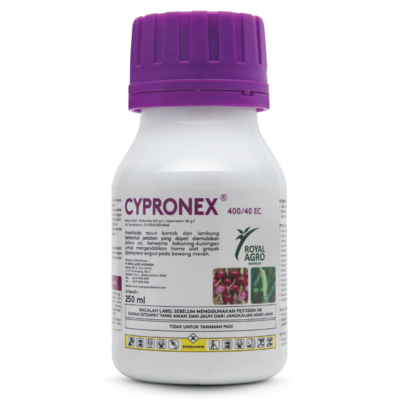 Insecticides of contact and stomach toxins that can be emulsified in water, yellowish-colored to control Spodoptera exigua on shallot
How :
Is a mixture of 2 active ingredients from the group of Organophospates & Pyrethroids.
Works on the nervous system of insects.
It is a non-systemic insecticide that works by contact and stomach poison.
Good anti-feeding, ovisidal and residual properties
Able to control many types of pests from groups: Lepidoptera, Coleoptera, Diptera and Hemiptera.
Application Advice
Shallot
Armyworm - Spodoptera exigua
Rate: 0.75-1.0 ml/l