Rimon Fast 100 SC
Contact and stomach poison insecticides to control important pests on shallots, soybeans, cabbage, long beans, corn and oil palm.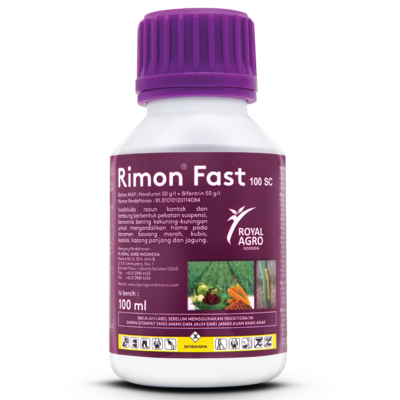 Product Excellence
Double Action:
Rimon fast has 2 active ingredients with different ways of working that will provide maximum efficacy and help with resistance management.
Stop Feeding Effect:
Rimon fast will cause caterpillars to stop eating (causing damage) 2-4 hours after application. Even though the caterpillar is still alive it will not cause any damage because its feeding activity is stopped.
Broad Spectrum Insecticide:
Rimon fast can control many insect orders that become insect pests on cultivated plants.
Application Advice
Onion
Target:
Spodoptera exigua
Dose/ ml:
1,5 - 2 ml/ l
Cabbage
Target:
Plutella xylostella
Crocidolomia pavonana
Dose/ ha:
600 - 800 ml/ ha
Soy bean
Target:
Lamprosema indicata
Dose/ ml:
1,5 ml/ l
Corn
Target:
- Helicoverpa armigera
- Spodoptera frugiperda
Dose/ ml:
- 1,5 ml/ l
- 3 ml/ l
Palm oil
Target:
Setothosea asigna
Dose/ ha:
1 ml/ l
Coffee
Target:
Hypothenemus hampei
Dose/ ha:
1,5 ml/ l