Royalcyper 250 EC
Contact and stomach poison insecticides in the form of concentrates that can be emulsified in water, yellowish in color to control the ulat grayak on citrus, soybean,...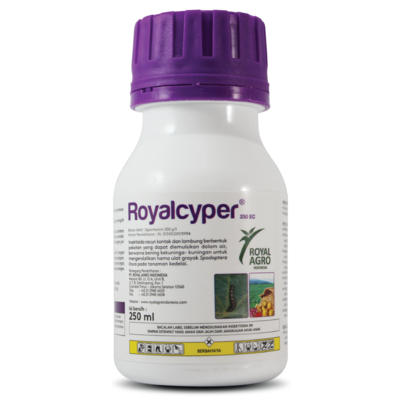 Royalcyper acts on the insect nervous system Non-systemic insecticide that acts by contact and stomach poison.
Anti-feeding effects gallery.
Has good residue.
Controlled broad spectrum pests: Lepidoptera, Coleoptera, Diptera and Hemiptera
Application Advice
Kedelai
Target:
Spodoptera litura
Dose/ ml:
0,75 – 1 ml/ l
Palm oil
Target:
Oryctes rhinoceros
Dose/ ml:
1 ml/ l
Orange
Target:
Bactrocera sp.
Dose/ ml:
1,5 ml/ l