TAPUZ 35 WP
Systemic insecticide with contact and ingestion
for controlling sucking insects and chewing
insects.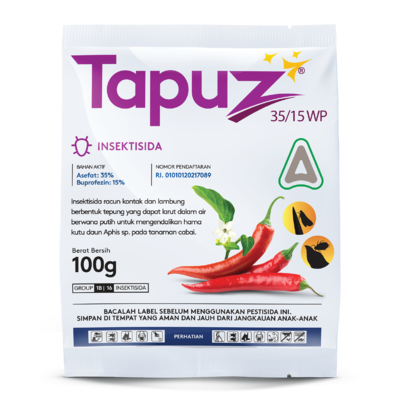 MODE OF ACTION 
ACEPHATE:
Biochemistry Cholinesterase inhibitor. Mode of action Systemic insecticide. Uses Control of a wide range of chewing and sucking insects, e.g. aphids, thrips, lepidopterous larvae, sawflies, leaf miners, leafhoppers, cutworms, etc.,
BUPROFEZIN:
Biochemistry: Chitin synthesis inhibitor, type 1 (Homopteran), with subsequent effects on cuticle deposition. It also has effects on the hormone levels of nymphs associated with moulting and on prostaglandin synthesis.
Mode of action: Persistent insecticide and acaricide with contact and stomach action; not translocated in the plant. Inhibits moulting of nymphs and larvae, leading to death. Also suppresses oviposition by adults; treated insects lay sterile eggs.
Uses: Insecticide with persistent larvicidal action against Homoptera, some Coleoptera and also Acarina.
Application Advice
Chilli
Target:
Myzus sp.
Spodoptera litura
Thrips parvispinus
Aphis sp.
Dose/Ha :
1000 – 1500 gr/Ha