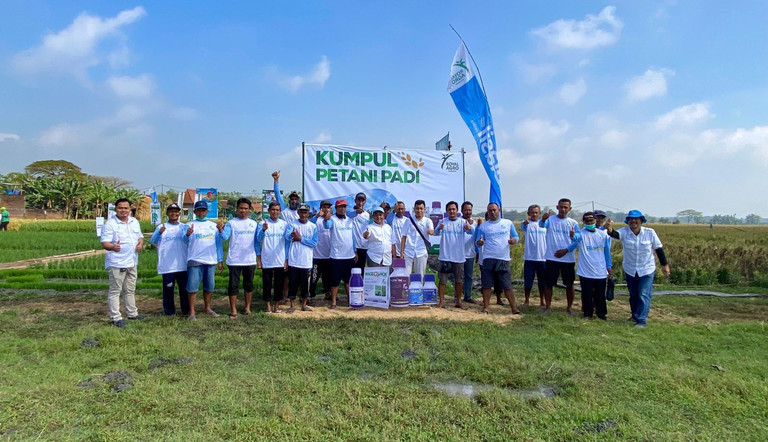 Hundreds of Selected Farmers Participate Kumpul Petani Padi in Mangunharjo Village, Ngawi, East Java
With the spirit of providing benefits to rice farmers throughout Indonesia. Royal Agro Indonesia again held a Rice Farmers Gathering event located in Ngawi, Central Java, Indonesia.
News & updates
11 July, 2022
6min read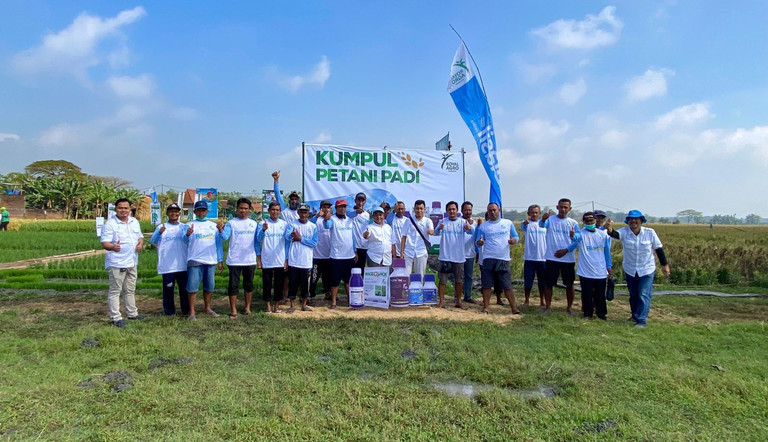 Wednesday, July 6, 2022
After being successful in Central Lampung and various regions in Indonesia, now Royal Agro Indonesia invites approximately 400 (four hundred) farmers in the East Java region to take part in the Rice Farmers Gathering event located in Mangunharjo Village, Ngawi District, East Java. This event was attended by the Department of Agriculture, Food Crops and Horticulture, Ngawi Regency, represented by Mr. Edi Suwarno, Agricultural Extension Center, Mr. Kadeni, Sub-District Head of Ngawi, Mr. Drs. Subandono, Head of Mangunharjo Village Mr. Suprapto, along with his staff and hundreds of selected farmers from Madiun, Ponorogo and Ngawi.
The Rice Farmers Gathering is a series of continuous activities by Royal Agro Indonesia in all national rice center centers. The purpose of this event is as a means for farmers to discuss about controlling plant pests and diseases, especially in rice plants. On this occasion, Royal Agro Indonesia also introduced the latest technology in plant disease control, namely the Blasil 270/230 SE fungicide. Blasil with a unique combination of 2 active ingredient formulas is able to control leaf blast and neck fractures as well as various other rice plant diseases. Other interesting activities were the demo plot of Rice which received proper treatment by using the Herbicide Solito, Insecticide Plethora, Fungicide Custodia and Blasil.
The farmers who were present were very enthusiastic and felt very happy with the holding of the Rice Farmers Gathering event by Royal Agro Indonesia. They can discuss with the company and exchange information with other farmers about how to control various pests and diseases that attack their rice plants. "Thanks to Royal Agro Indonesia for organizing this Rice Farmers Gathering event in Ngawi District. This event was very useful, because I got new knowledge about technology for controlling pests and diseases of rice plants and could exchange information with other farmers. We hope that Royal Agro will continue to organize this Rice Farmers Gathering event in all agricultural areas in East Java," said Mr. Jarot, a rice farmer who attended from Dampelan Village, Madiun District.
As we know, Ngawi Regency, East Java in 2021 has been named the region with the highest rice production. The Head of the Ngawi Regency Agriculture Office, represented by Mr. Edi Suwarno, hoped that the Rice Farmers Gathering event could have a positive impact on all farmers who attended and other stakeholders to be able to synergize with each other to increase rice production. So that it can prosper the farmers and Ngawi Regency remains the largest rice production center in East Java.
In this event, Mr. Widyatmoko Susilo as Regional Sales Manager of Royal Agro Indonesia for the East Java region, also said that this event was a form of collaboration between Industry and Rice Farmers to be able to produce abundant rice production by providing education about protecting rice from pests and plant diseases.
Royal Agro Indonesia is committed to continuing to organize the Gathering of Rice Farmers evenly throughout all agricultural areas in Indonesia and invites more rice farmers in these areas, in order to support farmers to produce optimal and quality rice harvests.
About Royal Agro Indonesia
Royal Agro Indonesia is a plant protection company that has grown rapidly since 2015. Royal Agro Indonesia organizes sustainable Rice Farmer Gatherings in all rice center centers such as in East Java, Central Java, South Sulawesi, North Sumatra and South Sumatra. This farmer education activity will continue in several other places by collaborating with relevant agencies, especially the Food Security Service in each region. For more information about Royal Agro Indonesia products, please visit www.royalagroindonesia.com
Contact Media
Regina Yalanda
Creative and Digital Executive
Email : regina.yalanda@adama.com
Mobile : 081119172936