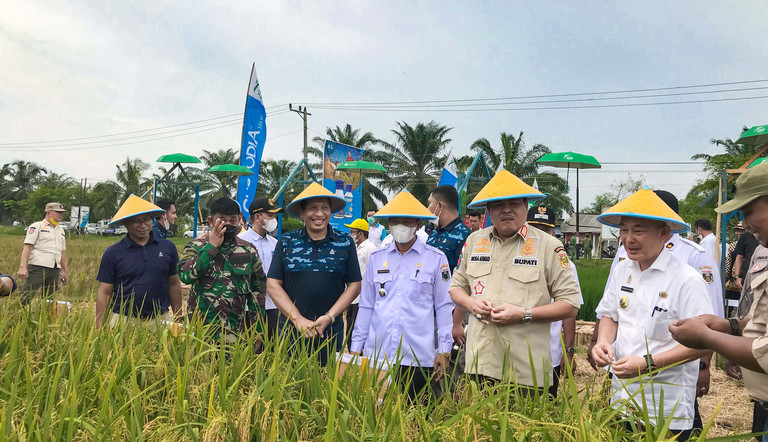 Regent and Hundreds of Farmers Attend Rice Farmers Gathering in Seputih Raman, Central Lampung
Royal Agro Indonesia is a plant protection company that has grown rapidly since 2015. Royal Agro Indonesia organizes sustainable Rice Farmer Gatherings in all rice center centers such as in East Java, Central Java, South Sulawesi, North Sumatra and South Sumatra. This farmer education activity will continue in several other places by collaborating with relevant agencies, especially the Food Security Service in each region.
News & updates
18 May, 2022
6min read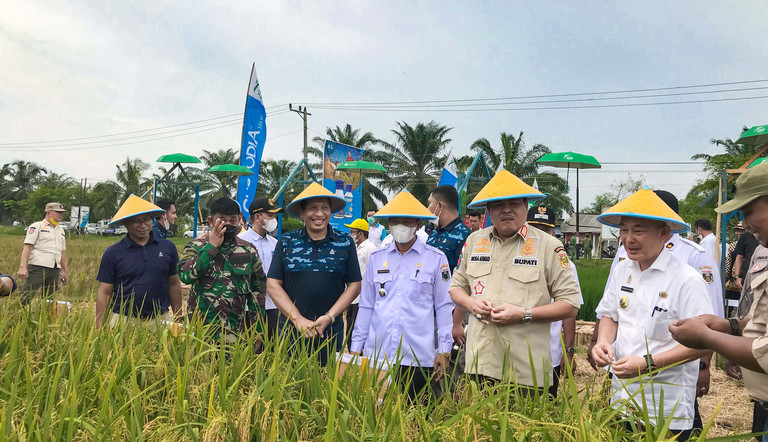 Central Lampung, 12 May 2022.
Royal Agro Indonesia in collaboration with the Department of Food Crops and Horticulture of Central Lampung held a Gathering of Rice Farmers in Rukti Harjo Village, Seputih Raman District, Central Lampung Regency. The event was attended by the Regent of Central Lampung, Mr. H. Musa Ahmad, S.Sos., Head of the Office of Horticultural Crops and Food Crops Mr. Ir. Khresna Rajasa, MM., Seputih Raman Sub-district Head Mr. I Made Suryana, S.IP., along with his staff and of course hundreds of farmers in the Central Lampung region.
The Rice Farmers Gathering is a series of continuous activities by Royal Agro Indonesia in all national rice center centers. The purpose of this event is as a means for farmers to discuss about controlling plant pests and diseases, especially in rice plants. As we know that Seputih Raman, Central Lampung is an important rice production center in Lampung province. In this event, the Regent of Lampung Tangah - Mr. H. Musa Ahmad, S.Sos. conveyed strategies to maintain and increase rice production in Central Lampung. "We will do everything we can to improve the agricultural sector, especially for rice, because this sector is very important. By building a cluster-based agricultural sector with an emphasis on increasing farmer activities in groups, using resistant varieties, best quality fertilizers and pesticides in controlling pests and diseases of rice plants," he said.
On this occasion, Royal Agro Indonesia introduced the latest technology in plant disease control, namely the Blasil 270/230 SE fungicide. Blasil with a unique combination of 2 active ingredient formulas is able to control leaf blast and neck fractures as well as various other rice plant diseases. Attending this very important event for the agricultural development of Central Lampung, Final Prajnanta – CEO of Royal Agro Indonesia; Suhendi, National Sales Manager for Royal Agro Indonesia and Erika Sitindaon – Rice Crop Manager for Royal Agro Indonesia.
The Regent and his staff were very impressed with the Rice Farmers Gathering organized by Royal Agro Indonesia because it was a forum for farmers' discussions to advance regional agriculture in Central Lampung.. "Thanks to Royal Agro Indonesia for making this Farmers Gathering event in Central Lampung. This event is very useful, because it can educate farmers with the latest knowledge about rice pest control technology. Hopefully this farmer gathering event can continue to be held by Royal Agro evenly in all agricultural areas in Lampung Province," concluded the Lamteng Regent.
Mr. Ir. Khresna Rajasa, MM., as Head of the Department of Food Crops and Horticulture hopes that this Rice Farmers Gathering event can build a synergy between Royal Agro Indonesia as a company in the field of agricultural production facilities, with local governments and farmers to increase rice yields and commodity production. other agriculture in Central Lampung.
During this event, Khairul Amri, Regional Sales Manager of Royal Agro Indonesia for the South Sumatra region, said that Royal Agro Indonesia also supports the Government's vaccination program because at this Paddy Gathering event, a free Covid-19 vaccination stand is provided in collaboration with the local Puskesmas for farmers and local residents who attend the event. the event.
For more information about Royal Agro Indonesia products, please visit www.royalagroindonesia.com.