REVUS 250 SC
Protective and curative fungicide in the form of concentrated suspension which dissolves in water, brownish white in color, controls diseases preventively and...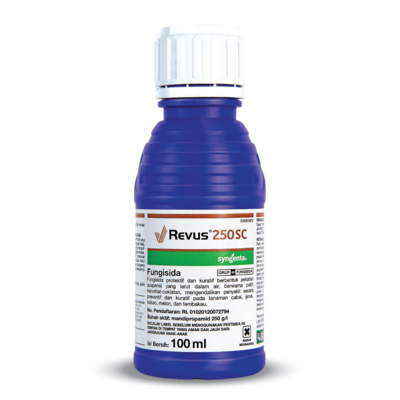 Revus 250 SC with Lok+Flow technology, effectively protects and quickly and strongly controls disease.
Ways of working:
Lock & Flow Technology
Can penetrate deep into the plant tissue, stopping, direct disease-causing.
Anti Resistance
A way of working that is different from most existing products, as a solution to break resistance.
Rain Fastness
It is not easily washed off by rain because of its ability to quickly seep into plant tissue.
Superiority:
Local systemic fungicide that can penetrate plant tissues and stop disease attacks quickly. 
Effectively controls the oomicetes class of fungi, such as Phytophthora infestans. 
Works in 3 (three) ways: preventive, curative, and eradicative. 
Proven to be effective in controlling various important diseases in vegetable and vegetable crops. fruits.
Application Advice
Chilli
Target:
Busuk daun & busuk buah disease
Phytophthora infestans
Dose/ Ha:
1 ml/ l
Orange
Target:
Blendok disease
Phytophthora citropthora
Dose/ Ha:
200-400 ml/ ha
Cacao
Target:
Busuk buah disease
Phytophthora palmivora
Dose/ Ha:
400 ml/ ha
Melon
Target:
Embun bulu disease
Pseudoperonospora cubensis
Dose/ Ha:
600 ml/ ha
Penyakit antraknosa
Phytophthora agenarium
Dose/ Ha:
400 ml/ ha
Tobacco
Target:
Embun tepung disease
Peronospora tianae
Dose/ Ha:
0.6 - 0.8 ml/l
Potato
Target:
Busuk daun & busuk buah disease
Phytophthora infestans
Dose/ Ha:
0.6 - 0.8 ml/l